Frequently we find the distribution of excess body fat is due to an inborn tendency to deposit fat in one particular area of the body, most commonly in women this affects the hips, abdomen, thighs and neck.  Many of our female patient struggle with this particular body issue, and no amount of exercise or healthy eating seems to have any effect on this excess fatty tissue. For this problem, liposuction is a viable and permanent solution.
Liposuction, also known as 'Liposculpture', is not a treatment for largely overweight or obese women, but instead for those of regular weight wishing to remove these stubborn pockets of fat, shaping and sculpting the treated area to improve the overall appearance.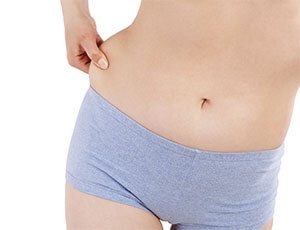 What you should know about Liposuction
It is not a weight reduction procedure
Treatment is performed under local anaesthetic
Laser is not utilised in our standard liposuction procedure
Patient should understand limitations of the treatment
It has no effect on underlying muscle strength or tightening
---
Liposuction treatments under local anaesthetic
At Wentworth Clinic our cosmetic surgeon generally performs liposuction procedures under local anaesthetic with oral sedation, though other anaesthesia options are available and would be discussed during the initial consultation with your surgeon.  At this time all questions and concerns should be addressed, and jointly you will agree upon the possible outcome of surgery.
Our standard liposuction procedure is performed without the use of laser fibre. However, laser liposuction treatments are also available at Wentworth Clinic.
If you are interested in finding out more about changing your body shape with liposuction then please contact us via the contact form, or call the London or Bournemouth Clinic where one of the Wentworth team will be happy to further assist you.