Your nose is arguably one of the most noticeable features on your face, and if you are unhappy with its appearance then it stands to reason that it will affect your confidence and self-esteem.  But it is not all about aesthetics, as many of our female patients come to us with congenital deformities, or are victims of an accident or trauma that has damaged the nose, restricting airways, or suffering from the collapse of the nasal valve mechanism.
Nose correction procedures
At Wentworth Clinic our Rhinoplasty surgeon has extensive experience in performing successful nose reshaping procedures. Commonly referred to as 'nose job', there are many reasons why women choose to have nose surgery.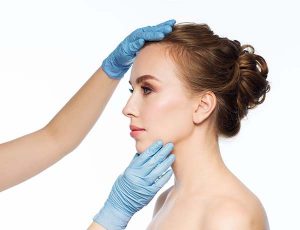 Common reasons for women's nose correction include
Width of bony nose
Nasal hump
Depression or dip along the nasal vault
Any asymmetry and aesthetics of the nasal lobule including droopy tip
Disproportionate size
---
Rhinoplasty consultation
At your initial consultation with our nose surgeon, we will discuss your current concerns while also making sure you are fully aware of the possible outcome of your nose reshaping surgery.  We will ensure you are 100% happy with the treatment plan before we proceed, reviewing anaesthesia options, possible complications and recovery instructions too.
Nose surgery procedure & anaesthesia
We offer closed and open nose surgery procedures, depending on the asymmetry. We also specialise in a procedure called, 'extended septal graft,' which will provide vault support, correct a valve problem, straighten the nose, and give good tip support.
Though some of our nasal surgery can be corrected under local anaesthetic, we would normally perform nasal correction procedures under general anaesthetic.
If you are ready to take the next step in transforming your appearance with nose reshaping surgery please contact us today via our online contact form, or call our receptionist who will be happy to schedule your first appointment to discuss your requirements.
Wentworth Clinic locations
With two state of the art clinics to chose from, our patients have the option to have their nose surgery performed at either our London clinic, which is ideal for those in Kent, Suffolk, Sussex and the surrounding areas, or our Bournemouth clinic for client in the south and south-west of England, in Dorset, Hampshire, and the surrounding areas.
For further information about our Rhinoplasty procedure please read below.