The crowns of the teeth could be affected by multiple previous restorations, decay and trauma, resulting in loss of shape of the crown which affects the smile, articulation and mastication. These prostheses are designed to restore your smile, enable your speech and mastication (food chewing and eating).
When decay has become so advanced that a portion of a tooth breaks off or must be removed, a dental crown or bridge (for more than one tooth) may be the answer.  Crafted from materials that include ceramic, porcelain, gold and metal alloys, and zirconia, a dental crown is a protective restoration made to restore a tooth's function and appearance, and with proper care can last for many years.
Dental crowns at Wentworth Clinic
We offer E-max dental crowns for a variety of purposes that include: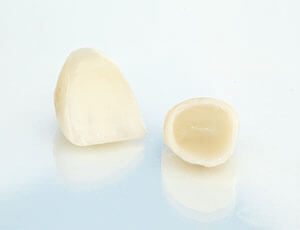 To cover implants
To hold a dental bridge in place
To prevent a cracked tooth from deteriorating further
To protect a weak tooth
If an existing filling is in jeopardy of becoming loose or dislocated
Crowns serve an aesthetic function too, and are fabricated when discoloured or stained teeth require restoration to their natural appearance
---
E-max crown – breakthrough dental technology
At the Wentworth Clinic, our cosmetic dentistry dept utilises E-max crown – an all-ceramic crown crafted from a single block of lithium disilicate ceramic. This top grade material is a breakthrough in dental technology offering highly durable, strong dental crowns in an appealing translucent colour, with no unsightly metal alloy base, so your gum-line doesn't give away the fact that you have a crown!
Dental bridges
When there is a loss of teeth in an area with a short span, a restoration called 'a bridge' can be used to replace the missing crowns, utilising the teeth on either side of the gap.
If you require further information about our dental crowns and bridges or would like to arrange a private dental consultation, please contact our office, or complete the contact form and one of the Wentworth team will get back to you shortly.