At Wentworth Clinic, we specialise in providing state-of-the-art dental crowns and bridges, tailored to seamlessly integrate with your natural teeth. Whether you're looking to fortify a weakened tooth or replace missing ones, our bespoke dental solutions are designed to restore not just the functionality of your bite but also the confidence in your smile.
How Can Dental Crowns Enhance Your Oral Health?
When decay, previous dental work, or injury affects your teeth, it can alter their structure and change their shape, impacting not only your smile but also your speech and eating habits. Dental crowns are essential in restoring these functions, allowing you to enjoy life without dental discomfort, restore your smile, nd ensure you can enjoy your favourite foods without issue.
Understanding the different types of Dental Crowns
As tooth decay progresses, dental crowns become important solutions. These dental restorations are available in a variety of materials, such as ceramic, porcelain, gold, metal alloys, and zirconia, offering diverse options to suit different needs..
What is a Dental Crown?
Dental crowns, in particular, serve as protective restorations, effectively a tooth shaped cap designed to not only restore the function of a tooth but also enhance its appearance. With continued care and maintenance, crowns have the potential to provide lasting benefits, ensuring the longevity of your smile for years to come.
---
The Advantages of Dental Crowns
The Wentworth Clinic offer E-max dental crowns to address a variety of concerns, including: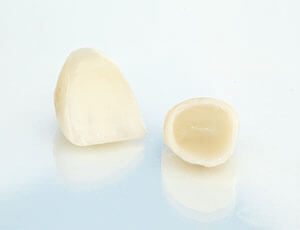 to cover implants
hold a dental bridge in place
prevent a cracked tooth from deteriorating further
protect a weak tooth
if an existing filling is in jeopardy of becoming loose or dislocated
Crowns serve an aesthetic function too, and are fabricated when discoloured or stained teeth require restoration to their natural appearance
---
Emax Crown – Innovative Dental Technology
Our cosmetic dentistry dept utilises E-max crown, an all-ceramic crown crafted from a single block of lithium disilicate ceramic. This top grade material is a breakthrough in dental technology offering highly durable, strong crowns in an appealing translucent colour, with no unsightly metal alloy base, so your gum-line doesn't give away the fact that you have a crown!
Bridging the Gap with Dental Bridges
When teeth are lost within a short span, a dental restoration known as 'a bridge' can be used to fill the gap, utilising the adjacent teeth for support. Learn how dental bridges can restore your smile. Book a consultation with our Cosmetic Dentist, Dr. Regina Ilankovan.
If you require further information about our dental crowns and bridges, please contact our office, or complete the dentistry contact form and a member of the Wentworth Clinic team will get back to you shortly.