With age, the lower eyelid can become troubled with excess fatty tissue (known as fat herniation) and wrinkled sagging skin. Many men are now turning to eye bag removal surgery (lower eyelid surgery) to resolve this issue, effectively removing that fatigued, tired look and returning the face to a more youthful, refreshed appearance.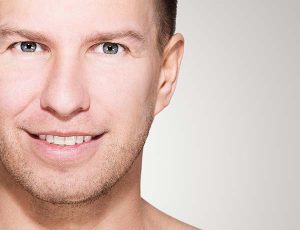 Benefits of eye bag removal surgery for men
Corrects tired, fatigued appearance.
Corrects sagging, drooping skin of the lower eyelid.
Repositions excess fatty tissue.
Removes excess skin.
---
Lower eyelid blepharoplasty consultation
Our qualified surgeon will first perform a thorough examination of your eyes to confirm eye bag removal is the right procedure for you.  We will discuss the surgery, anaesthesia options (90% of our procedures are now performed under local anaesthetic) and post-treatment care.  When appropriate our surgeon will suggest combining lower eyelid blepharoplasty with upper eyelid surgery, to ensure a balanced and more pleasing outcome.
Septal reset technique
We use a lower eyelid blepharoplasty technique known as 'septal reset', in which we reposition excess fats, rather than removing them entirely.  Our experience in this surgical procedure has shown that when fat is removed entirely, the eyes become sunken within 7-10 years following surgery.
To find out more about eye bag removal treatment for men, please continue reading below, or if you are interested in scheduling a private consultation with our surgeon then please call our Bournemouth Clinic to book your appointment.