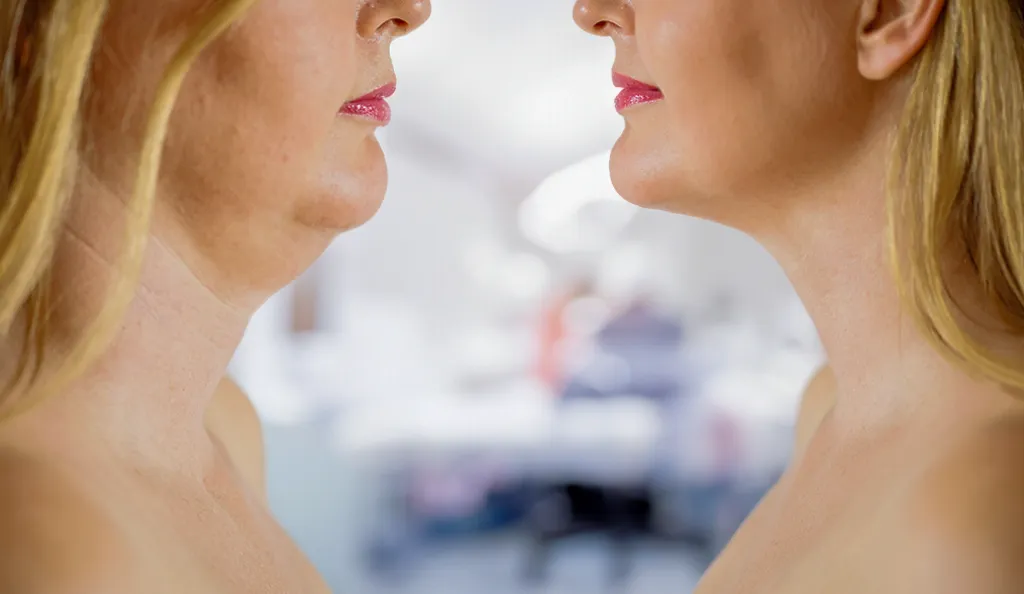 Are you in your 30s or 40s and noticing a loose neck? You might be wondering why some people your age are considering neck lift surgery.  Let's break a neck lift down in simple terms.
How Neck Lift Surgery Addresses the Unique Needs of Younger Adults
People in their 30s often don't show visible signs of ageing, but they may have some anatomical disproportion where their chins might be smaller, and their windpipes are placed differently (anteriorly – towards the front), causing a loose neck appearance.
In contrast, those in their 40s may also have a weak or receding chin, but they also experience classic signs of ageing, like a less defined jawline, neck bands, and excess fat under the chin.
How to Improve Neck Definition in Younger Patients with Retro or Microgenia
For younger individuals, the main problem is having a chin that's set back (retrogenia) or small (microgenia). When the windpipe is positioned forward, it can accentuate this issue. While we can't fix the windpipe, we can enhance neck definition with chin surgery (advanced augmentation genioplasty). Sometimes, we even perform a double chin surgery to increase chin height and projection.
How to Correct Neck Bands and Excess Fat Under the Chin in Older Patients
In the older age group, the platysma muscle causes neck bands. Tightening this muscle and anchoring it to the neck's lateral muscles (sternocleidomastoid muscle) helps. But for some, this procedure is not enough. They might also require 2 cinch sutures to lift the submandibular gland and define the jawline further. This process involves removing excess skin to enhance neck definition.
How Chin Surgery Can Be Combined with Neck Lift to Enhance Facial Proportions
Genioplasty, or chin surgery, can improve facial proportions and reposition chin muscles. However, with our neck lift technique, we make incisions under the chin and in front of the earlobe. These incisions are usually hidden in natural creases, so they're not visible.
When Genioplasty and Platysmaplasty are Performed Together
Some patients fall between the two groups and need both genioplasty and a neck lift to correct structural issues and ageing concerns. For genioplasty, we use an incision inside the mouth, reposition the chin bone, and secure it with a small titanium plate and screws. Simultaneously, we perform a neck lift, including incisions, muscle adjustments, and skin removal. No drainage is usually required.
What to Expect After Neck Lift Surgery
After the procedures, patients wear a supportive garment for the first one to ten days, primarily at night, to aid the recovery process.
Is Neck Lift Surgery Right for You?
In summary, neck lift surgery helps people in their 30s and 40s achieve a more youthful appearance by addressing both structural imbalances and signs of ageing. It's a comprehensive approach that can provide natural-looking results.
To find out more about Platysmaplasty, please visit our neck lift surgery page.